‹ Back to Events
Rocktoberfest 2021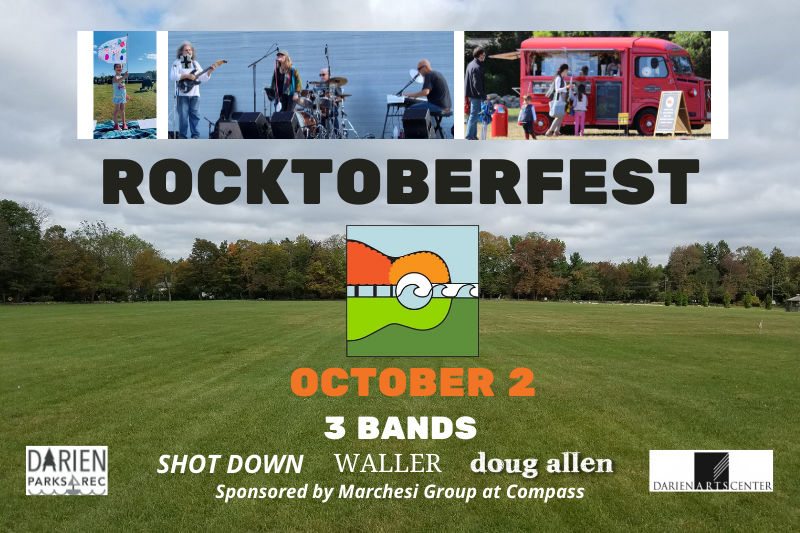 October 2, Noon-6pm
Three live bands
Food trucks
Craft vendors
DAC dancers
and more!
At Highland Farm, 560 Middlesex Road, Darien, CT
$25 Parking Pass and Admission
The Darien Arts Center and Darien Parks and Recreation are hosting the second annual ROCKtoberfest, on October 2 from noon-6pm at Highland Farm, to benefit the DAC and Parks and Rec.
The event will feature three musical guests, family-friendly activities and food, drink, business, and craft vendors. Musical guests Shotdown, Waller and Doug Allen are performing at the concert. Parking and admission is $25 per car and walk-in admission is $5 per person. Preregistration is required to attend.
Fun and creative family-friendly events will include chalk drawing and mural painting led by DAC Visual Arts instructors, strolling magician Steve Dane and performances by DAC dancers.
The band Shotdown delivers a modern country music experience with an upbeat and energetic playlist and performs cutting edge tunes as well as all the standard country favorites. Waller is composed of musician James Waller Crafford, Darien native and DHS alum, and his trio. Waller's music is characterized by raw, expressive vocals and vintage guitar tones that deliver a laid-back mood with nostalgic themes. Local favorite Doug Allen, was born and raised in Darien, and now a popular Nashville based singer-songwriter, known for his high energy acoustic shows and rich voice that reminds fans of Zac Brown.
In addition to buying food and drinks from vendors, attendees may pack their own picnics and should bring the means to dispose of trash as the event is 'carry in, carry out' to help keep the town's new recreational space clean. Portable bathroom facilities will be provided. Raindate for this event is October 9th.
Would you like to be a vendor at ROCKtoberfest?
Roctoberfest is sponsored by the Marchesi Group at Compass Real Estate.